March was a month of ennui.
With VCN and TCD over, there was a growing sense of impatience for the end of anything to do with school. Given that I started working overtime on a regular basis and dealing with the inevitable frustration of the LA Metro, I barely had time to worry about myself, let alone other people. Don't get me wrong; I love VSA and TCD, but I've been in a limbo. I'm suspended between adulthood and student life, and I find myself drifting further away from anything that doesn't have to do with just me and my happiness. It sounds selfish and sad but I feel like a ghost on my own campus. Why am I still here?
Feelings of disconnect and detachment aside, here were my favorites from this third month.
---
music
Talk // Tim Atlas — Chill, groovy, and fun. Tim Atlas' songs and voice are just so feel-good. I also love "Compromised" and "Unwind" from his album All Talk!
Moon River // Frank Ocean — He's pretty much the king of nostalgia and melancholy, so this cover was a perfect match. It's one of those songs that wash over and consume you, leaving you with longing and resignation.
See You Again // Tyler, The Creator, Kali Uchis — One of the songs that make my bus rides to/from work a little more bearable. Kali Uchis' voice is just so beautiful.
After The Storm (ft. Tyler, The Creator & Bootsy Collins) // Kali Uchis — Lately, I've just really been into Tyler, The Creator and Kali Uchis' collaborations. They make a great duo and produce songs that are just so groovy and smooth. The music video is awesome, too.
MICHUUL. // Duckwrth — Just a really fun jam.
limbo garden // Spotify playlist — I started this playlist of mostly fun songs during a period of malaise. I'm hoping the collection will help me transition from these feelings of listlessness to a sense of security and optimism.
books & television & movies
The Refugees // Viet Thanh Nguyen — There's something about reading the stories of your people that's just so reaffirming, so comforting despite the tragedy and pain of their narratives. To see the street names and restaurants from my hometown printed in the pages of book was surreal. To read about the struggles of the characters that could/were my parents and their parents was chilling and comforting.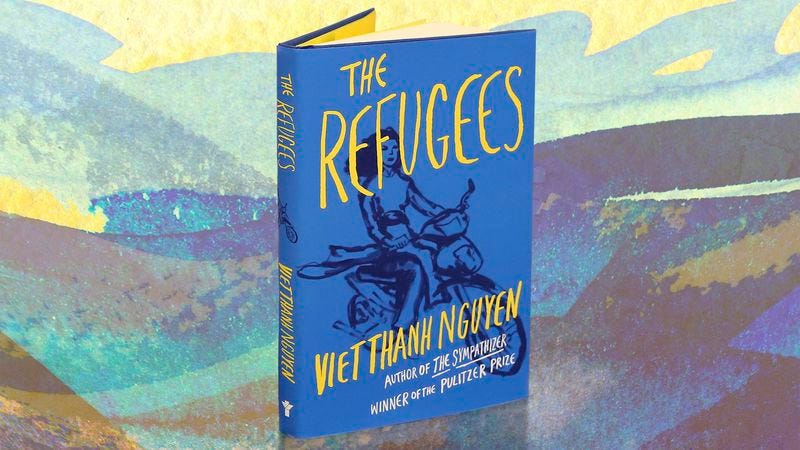 Bojack Horseman // Netflix — I love this show so much. Its brutal explorations of depression, loneliness, fame, love, and purpose are just heart-wrenching. I think Season 4 has been one of the more consistently devastating arcs, especially with all the focus on family. Bojack somehow always squeezes the life out of your heart and miraculously gives you reasons to smile and hope at the same time. It's breathtaking. Plus, I freaking love Todd for a plethora of reasons.
Black Panther — Amazing. Wakanda Forever. Erik Killmonger deserved better. Nakia, Okoye, and Shuri are QUEENS.
Isle of Dogs* — The movie is fun, sweet, and beautifully crafted. Wes Anderson's latest film is a stop-motion animated adventure about the boundless charm and scrappiness of dogs and the unconditional love they have for us undeserving masters.
The Death of Stalin* — A hilarious black comedy about the Party leaders' scramble for power after Stalin's death. Rupert Friend as Vasily Stalin gets me every time and Jason Isaacs' Zhukov is just glorious.
coffee
Document Coffee // Koreatown — I loved that the shop was minimal without being pretentious about it. It had long, plain tables; white walls; plastic, elementary school chairs; and colorful plastic trash bins as lamps. Okay, some of it was eclectic, but it worked and wasn't overbearing. Plus, the coffee I had was delicious and my friend enjoyed her hot chocolate, which came as a hunk of chocolate on a spoon that you'd stir into your steamed milk. It was a tasty and fun experience. Definitely would revisit, especially since my first time going was filled with fun and introspective conversation.
Portola Coffee Lab // OC Mix, Costa Mesa — The line was long but it was worth it. The flat white I got was delicious and the ambiance of OC Mix is quite charming. It's a bit too refined and "hipster" to be completely fun and comfortable, but I'd go again to try more of the coffee.
Moon Bear // Chestbrew — Vietnamese coffee with "bear" in the name? It's like the coffee deities made this blend specifically for me. It was destiny.** And the brew is really good, too! It's dark, robust, smooth, and perfect in my moka pot. Plus, it's affordable, so this'll be my go-to blend for a while.
social media
Tweet Deck — It makes tracking different things like tags, phrases, mentions, people, etc. on Twitter so easy. The tool is great for anyone doing social media campaigns or management.
Buffer — Makes scheduling Instagram posts a cinch.
other
striped jogger // Bershka — I freaking love these pants so much. As Mo has said very often, "They're so smart!" Plus, they're so comfy I could sleep in them. That's probably going to be my new criteria for pants.
Bioclarity  — It's actually done a pretty decent job on alleviating my acne. Breakouts are smaller and heal faster, and the formula is all-natural. The only drawback is that the 3-step system is sold as a monthly subscription so you can't buy each product individually, which is annoying when you run out of one bottle but not the other. Hopefully that pricing method changes at some point.
---
*As part of my job, I worked/work on the social media campaigns for these films. However, all of these opinions are authentic, Maitlyn-certified thoughts.
**I like bears and I am Vietnamese.