A Little Life Update: I'm moving to New York!
Come September, I'll be a part of Verizon's AdFellows program wherein I'll rotate across different advertising/marketing/PR agencies over the course of 8 months. This is super exciting because I've wanted to move to New York since I was a wee baby child, and now my dreams are coming true?? And I get to work for a bunch of cool agencies?? Unfortunately, that meant I had to leave my job at Watson Design Group, a place I truly loved working for since it afforded me so many opportunities and really great memories. It was hard to say goodbye to the friends I made, but I'm anxious to return to the East Coast. I told you I'd be back for ya, New York!
---
music 💫
Eleven // Last Dinosaurs — The thumbnail caught my eye among my Youtube recommendations, so I clicked with an open mind and was greeted by  the most summery bop I've heard in a while. Something about the song and video's carefree, serendipitous energy is infectious and wonderfully nostalgic. Driving down a summer highway with the top down and your best friends in the backseat as the city lights blur in the distance? Doesn't get much better than that.
Japanese Breakfast — I am absolutely in love with Michelle Zauner. Her voice is hypnotic and breathtaking, and her lyrics always hit you right in the gut—in a good way. Michelle baffles me, absolutely baffles me with the pure beauty of her voice and transcendent compositions. I'm going to stop singing her praises for fear of word vomiting a lot of music jargon I don't know how to properly use…gah! She's just wonderful.
Boyish — I'll never get over the genius of "I can't get you off my mind / I can't get you off in general." Also, the music video is captivating: sound, wardrobe, cinematography, set design, art direction, actors, Michelle, everything!
Road Head  — This is a song I had heard a while ago and didn't give much thought but am oh so grateful came back into my life when I was ready to appreciate its perfection. Though the song is amazing, the video takes it to a whole other level. The head bobs~~
Hive Mind // The Internet
La Di Da — So. Much. Fun.
Hold On — This is like cosmic levels of chill, groovy vibes. I'm just blown away. And when the beat kicks in? Oh boy.
Little Dark Age // MGMT — Aside from "Little Dark Age" and "When You Die," these are the songs I've been obsessed with.
Me and Michael — This was a favorite of mine a while ago as well, probably around the time Little Dark Age came out, but a second wave of love washed over me when I watched the incredibly bonkers music video. MGMT is always brilliant, and I just can't help but belt "Solid as they come" every time I listen to this jam.
James — Just a super deep, bellowing "JAMES" to kick off the song. Flipping amazing.
The Now Now // Gorillaz — This album continues to be wonderfully therapeutic and comforting…despite the melancholy lyrics of course. One of my fondest memories from July was lying down in my room with a stomachache and letting Damon's voice wash over me as The Now Now filled the silence and carried me away from the pain. Along with all the favorite songs I mentioned last month, "Magic City" has been on repeat lately so take a listen below. Try not to get hypnotized.
Sex & Food // Unknown Mortal Orchestra — Like The Now Now, this album continues to be one of my favorite collections of music and sources of bliss in life. I still stop whatever I'm doing when "Hunnybee" or "Not In Love We're Just High" comes on. These songs always deserve my full attention.
books 💔
A Little Life // Hanya Yanagihara — I had a love/hate relationship with this one. It was beautiful, but painful; devastating, but heart warming at times too. Honestly, I was dying while reading in a good way…but also a bad way too. Check out my review here.
movies 💣
Sorry to Bother You — An absolutely wild, smart, and mind-boggling movie that keeps you hooked from beginning to end. The cutting satire is ruthless and the art direction is electric, but the twist really threw me for a loop and was the only thing I didn't fully enjoy. I think it took the film to a literal state it didn't need to breach to make its point, but the rest was awesome. I loved the cast so much, especially Tessa Thompson and Steven Yeun. And of course Armie Hammer was amazing as the sociopathic villain.
television 🛸
Devilman Crybaby — I've only seen two episodes so far since another television show quickly consumed my life instead…but I really enjoyed what I've seen! The show has very high energy, a compelling dark storyline, and a beautifully disturbing art style, making it a captivating anime to watch. I'll return to it in due time, but for now just know that it's very NSFW because it's pretty explicit when it comes to violence, sex, and nudity. Watch if you're okay with that stuff…and if you like really smart rap scenes.
Voltron Legendary Defender — With its track record as a toxic fandom, I was wary to start Voltron even though the show intrigued me. Nevertheless, my friend and I watched the pilot episode together and promptly forgot about it for a while since life got in the way. I picked it up again in July and was quickly sucked into the black hole of obsession. Maybe it was the juvenile antics or beautiful animation, the hilarious plot lines or complex characters, or simply the fun, wondrous, nostalgic premise of a group of teenagers traversing the galaxies in defense of the universe that hooked me in and never let go. I binged the show during sweaty July days that bled into sweaty August nights and could not stop thinking about the paladins whenever I wasn't plugged into Netflix. It's probably good that I caught up on the series and won't be able to watch season 7 for a bit. Too much of a good thing and all. I'm calling it now; come end of August, I'll be raving about Voltron again during my next set of favorites. I just can't see myself not falling in love with these dorks all over again next season.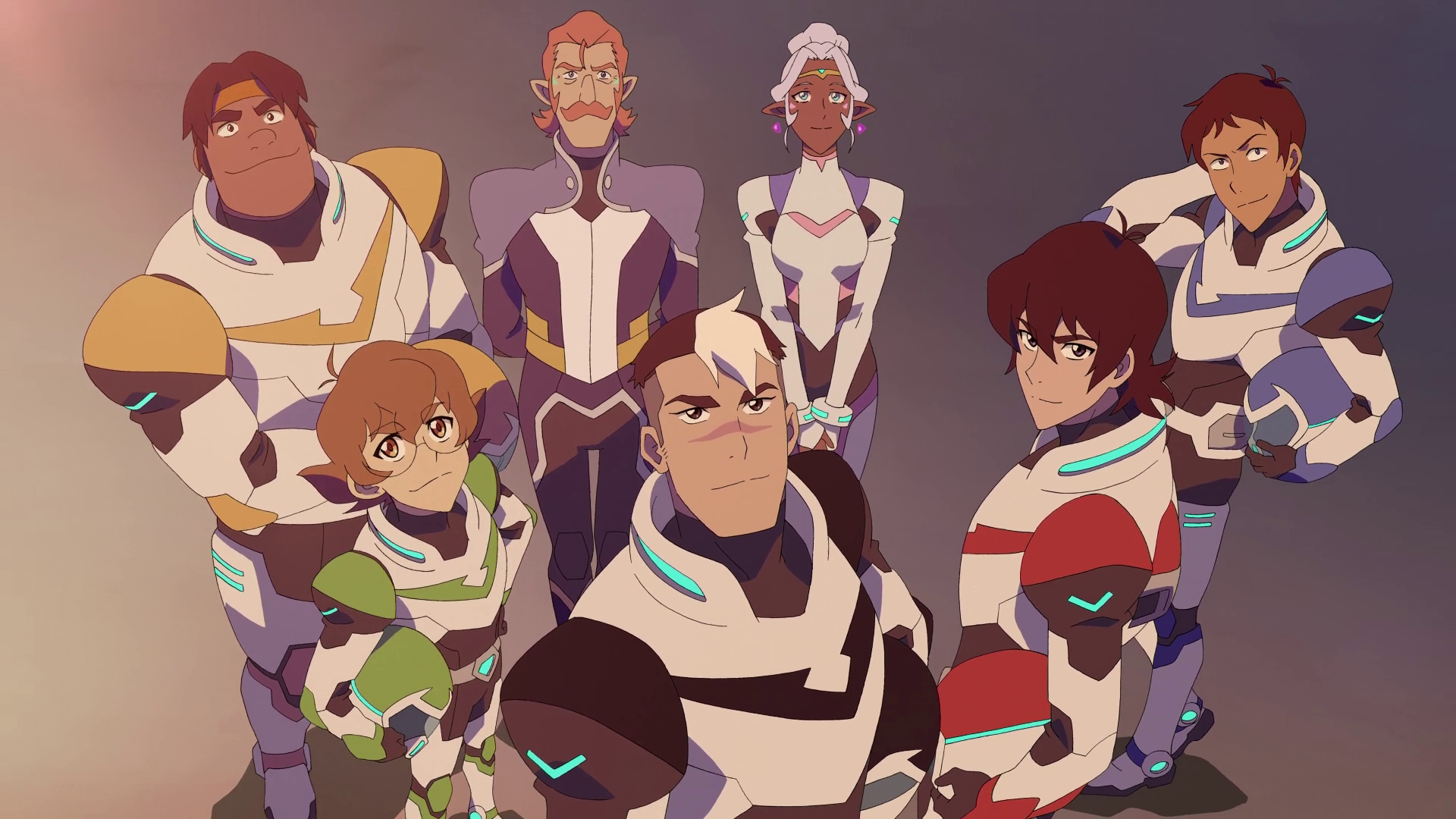 food and coffee ☕
Green Leaves Vegan // Silver Lake — Vegan Thai and Asian fusion food at affordable prices!
Uncle John's Cafe // DTLA — I honestly only wanted to try this place because it was on Worth It's steak episode, but I'm super glad it turned out great. The steak was perfectly  rare and the entire meal ($12.75) was very filling.
Magpies Soft Serve // Silver Lake — The flavors they have are super unique and really delicious. I highly recommend the combination I got below—black rice horchata with maple coconut chips.
Wanderlust Creamery // Glendale — It was super hard to choose a flavor since all of them were sooooo good, but I opted for a fruity combination of Yuzuru Yogurt and Lilikoi Li Hing Pineapple Sorbet. I'd definitely return for the Ube Malted Crunch, Japanese Neapolitan (matcha, hochija, and black sesame), or Sticky Rice + Mango in the future though.
Sharp Specialty Coffee // Koreatown — This coffee shop's aesthetic is on point: high ceilings, concrete floors and counters, wooden tables, industrial accents, and drawings on the large chalkboard. Plus, the coffee's great too!
banana oat cookies // homemade — I kind of stumbled on this recipe one afternoon while trying to get rid of ingredients I had in the kitchen and ended up with PERFECTION. I've made them many, many times with various additions like cacao nibs, coconut shreds, nuts, and blueberries. Always delicious. Recipe coming soon!
other ✨
Steven Yeun Interviews on Conan — Can anyone be as perfect as this man? Probably not. The video below started a very intense love for Steven's comedic brilliance.
Watson Design Group — It's only been a little over a week, but I already miss my old company so much. The experience I received from being challenged and pushed out of my comfort zone strategically and creatively is something I'll always appreciate. I still can't believe I got to work on film and television campaigns right out of college, let alone at an award-winning agency! It was a hard decision to leave, but I think the right one in the end for my long-term career goals. Still, it was pretty hard to part with the friends I made. I met some wonderful people there, and during my last week of work it really hit me that I would sincerely miss so many of them. Watson's not only a favorite for the past month, but a favorite for the year…and maybe life too.